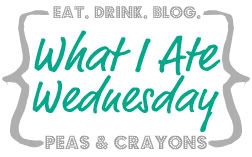 So for this WIAW, one its gonna be brief because late writing it and have to get it done by midnight. This is a focus on some freedom food finds/discoveries I had this week and I wanted to start with one I am really passionate about. It's Peanut Butter!
I will wait to do a full review, but just had to share since it is Limited Edition. The amazing people at Jiff (who after I shared my love for this product and my story sent me coupons) have gone beyond with peanut butter. Let me introduce you to
Jiff Whips: S'more and Chocolate Mint flavor
. AMAZING.
First off, the texture is much smoother making it easier to scoop these out and I imagine to spread them (I just eat them off a spoon after leaving in freezer). The first one I tried was the S'mores and I love it. To me it has more of a coffee flavor with a sweet marshmallow afterthought. I thought I had met my new PB love…then I found the Chocolate Mint and my life was changed. This is AMAZING. It still taste like PB and isn't overly chocolate or mint..its just perfect. Gets my PB fix while also making me feel like eating a thin mint and then the sweet mint flavor softly soothes your mouth after giving you a light feeling…something I don't usually get from PB and love. I just like how airy and fresh these are because it doesn't leave me feeling as "heavy" as after eating a glob of regular PB. I will do a full review when I try some other flavors, but just had to give Jiff applauds here. Now go grab these flavors before they are gone!
Now onto my freedom finds for the week.
So first off I tried
Cascadian Farm Vanilla Almond granola with my fro-yo
. I don't know..still not sure I am a granola fan. It's a definite fear food and it wasn't bad….I just don't think gonna be something I eat regularly. Much prefer cereal or my puffs with this Breyer's fro-yo…which moved from a fear food to safe food!
Especially when eaten with temp-changing spoons (color change if touch something frozen). .
In fact, here it is again, but I tried a new flavor too!
Breyer's Fat Free Chocolate
with PB2 on top. So good. You need to try this guys!
I also faced my fear of eating 80-cal yogurts twice in a day and tried
Walmart's Lemon Meringue Nonfat
yogurt. Wasn't that big of a fan, but oh well.
Then "found" my love of
grits
. No, not new to me (I live in the south), but first time since my ED I have eaten a full portion and not spilled in. Even mixed in some tuna. Sooo good
I then had a really weird snack craving one night to get my bagel equivalent in. Had
mahi-mahi on thick bread with tomato and diet cider
. All was calorie equivalent to bagel. Attempted to eat at least one bite as sandwich, but guys I just don't like all the different textures. It was good, but still iffy on mahi-mahi.
And then, the best combo EVER that makes me a complete weirdo and the end to our WIAW….a
bagel topped with mustard/grape jelly spread (just mix 1 tsp mustard and 1 T jelly)
and lettuce. It's so good. Sounds weird, but amazing! So amazing I had it again tonight.
Well that's a WIAW wrap. Thanks
Jenn
for hosting